Content Fact:
G2G Sales Communications
has been acquired by
Corporate Visions, Inc.

Read the press release here.
Does your marketing content only look good on paper?
You have a terrific product. A slick brochure. A killer website. And a hungry sales force. It looks like you're ready to storm the market, but, for some reason, your content isn't getting your salespeople the traction they need to close business in the field – where the majority of buying decisions take place.
You're not alone.
More and more marketers are discovering generic brochure-ware can only take a company so far into the sales funnel. Once your salespeople actually engage with a customer, they need targeted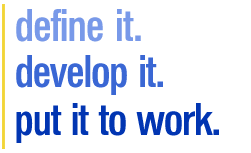 materials – talk tracks, solution briefs, case studies, executive overviews, presentations, follow-up letters, and proposals – specific to that particular customer's industry, role, and challenges.
That's where G2G Sales Communications comes in.
We provide content strategy, development, and training services that help you use your content to sell more effectively. From uncovering your value proposition to creating the materials your salespeople need to communicate it to their customers, we work with you to turn your good ideas into great selling content.